National Creamsicle Day Celebration
Celebrate National Creamsicle Day With Good Humor on August 14!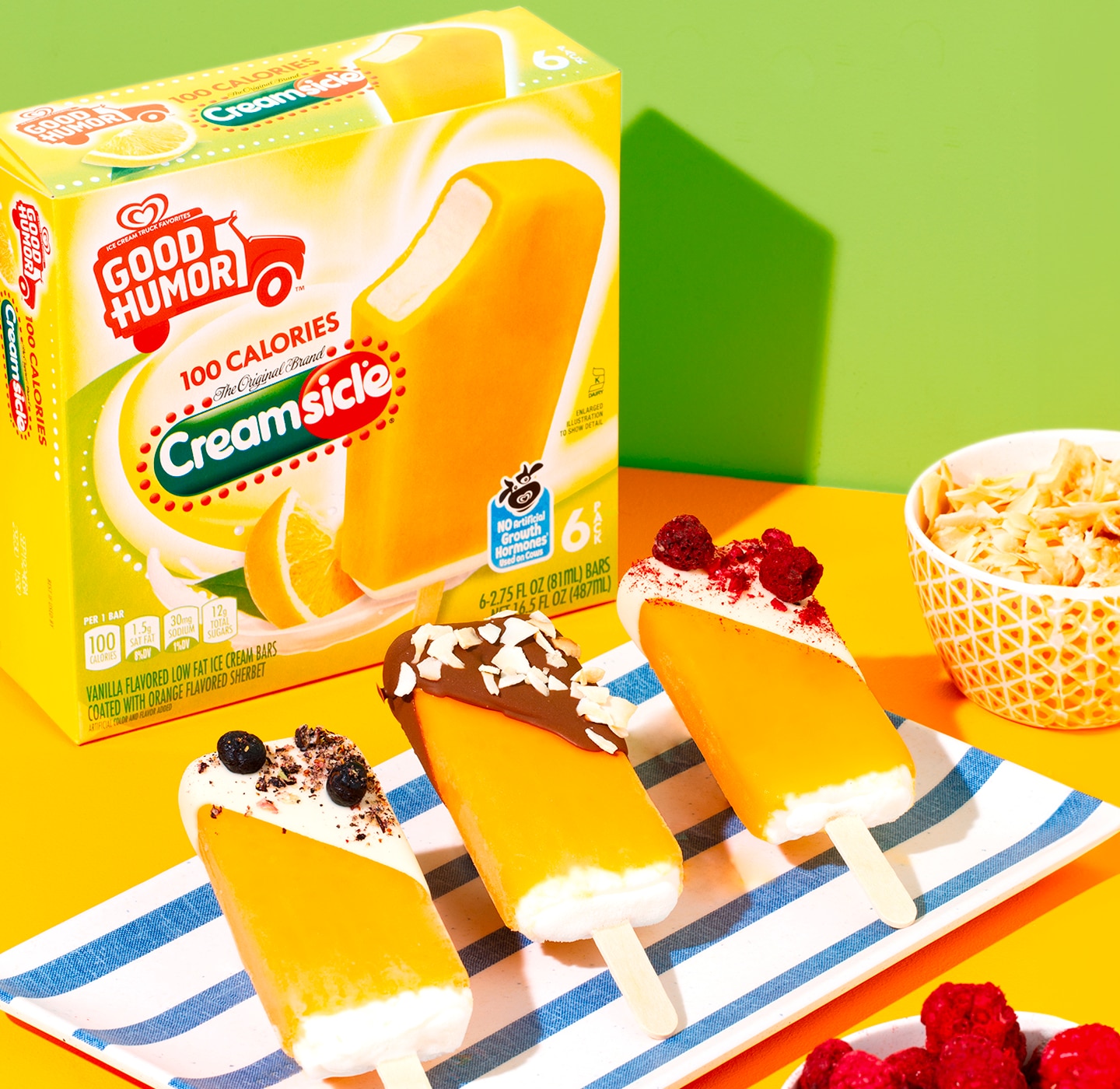 Not ready to give up summer yet? Celebrate National Creamsicle Day with Good Humor's iconic Creamsicle Bar!
National Creamsicle Day is celebrated every August 14 to honor one of America's most nostalgic ice cream treats during the height of summer.
Made with rich, creamy low-fat vanilla ice cream and the bright citrus flavor of orange sherbet, Creamsicles are an irresistible combination. These 100-calorie bars are an ice cream truck staple that can cool you down on a hot day while at the pool or in your backyard. You can share them with your kids, grandkids and friends knowing it's the real thing, from a name you can trust.
Want a creative twist for your favorite guilt-free orange sweet treat? Try making your own customized Creamsicle Board! It's the perfect treat for a sticky August day. Just make sure you eat it quickly so this high-quality summertime favorite doesn't "stick" on you!
Creamsicle Board Recipe
Ingredients (Serves 6):
For the chocolate shell dips:

1 cup milk chocolate chips
1 cup white chocolate chips
2/3 cup coconut oil
Kosher salt
To serve:

6 Good Humor Creamsicle Bars
1/2 cup freeze-dried raspberries
1/2 cup freeze-dried blueberries
1/2 cup toasted coconut shreds
1/2 cup sliced almonds
Instructions:
Make the chocolate shell dip:

In a heat-proof measuring cup, mix together 1 cup of milk chocolate chips with 1/3 cup of coconut oil and a pinch of Kosher salt. Place it in the microwave and heat for 45 seconds, then stir until the chocolate mixture is silky smooth.
In a separate measuring cup, mix together 1 cup of white chocolate chips with the remaining 1/3 cup of oil and pinch of salt. Repeat the process above.
Let the chocolate shell dips cool for 3-4 minutes while you assemble your toppings.
Assemble your toppings & customize your bars:

Place the freeze-dried raspberries, blueberries, coconut shreds and sliced almonds in individual bowls.
Once you're ready to serve and assemble, dip your Creamsicle Bar halfway into the chocolate shell dip, then sprinkle your favorite toppings over the bar and enjoy!